About na coille studio | HANDMADE FURNITURE IN OTTAWA
NA COILLE STUDIO IS DEDICATED TO CREATING WELL CRAFTED, CUSTOM, LIVE EDGE AND RECLAIMED WOOD FURNITURE, INCLUDING DINING TABLES, COUNTERTOPS, COFFEE TABLES, BENCHES, CHAIRS, CONFERENCE TABLES AND HARVEST TABLES, USING WOOD SOURCED RIGHT HERE IN OTTAWA. OUR CUSTOM FURNITURE MARRIES MODERN, CLEAN-LINED DESIGN, WITH HEIRLOOM QUALITY CRAFTSMANSHIP, FINISHED TO PERFECTION. OUR PASSION LIES WITH USING OLD GROWTH RECLAIMED AND SALVAGED WOOD FROM THE OTTAWA VALLEY, NOT JUST FOR ITS SUSTAINABILITY, BUT FOR THE TIGHT DEEP COLOURED GRAIN AND RICH PATINA. EACH PIECE OF WOOD HAS A RICH HISTORY THAT'S SO IMPORTANT TO US.
We're a small team of dedicated craftspeople, constantly looking to push the boundaries and try new things. We use a mix of materials including wood, steel and resin. We're extremely passionate about our impact on the environment and do our best to pursue eco-friendly options with each build. We also do our best to source, locally salvaged wood, which we mill and dry ourselves.
CUSTOM FURNITURE, HANDMADE IN OTTAWA
Our true passion lies with creating beautiful custom furniture, and we love nothing more than working with our clients to design and build the custom furniture for their space, residential or commercial. Custom furniture, doesn't necessarily mean top dollar, it means we'll give you, exactly what you're looking for. Whether it's custom dimensions, custom design, or custom colour. Why not be a part of the process in building something you'll relish for the rest of your life? We'll work with you through all the details, including design, and choice of materials to ensure you end up with exactly what you've been looking for. Visit our Ottawa studio to see custom furniture in progress, check out wood samples, or just to chat about a possible project.
For quotes and to chat about custom work, please contact us at info@nacoillestudio.com or at 613-325-6451
Custom furniture, built for life, built in ottawa.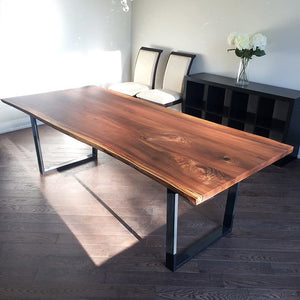 LIVE EDGE WALNUT DINING TABLE
Our goal is to create custom furniture and home decor that blend modern design with real, solid, locally salvaged and reclaimed wood and steel.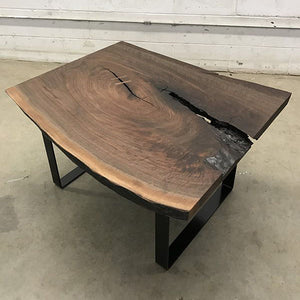 LIVE EDGE WALNUT COFFEE TABLE
From tree to table. We mill almost 90% of the wood we use in our custom furniture. With most of it coming from within a 45 minute drive of our shop in Ottawa.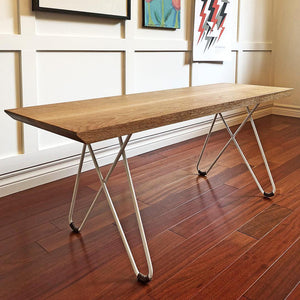 MODERN CUSTOM FURNITURE
Looking for something different, want to push the envelope? We're happy to think outside the box and design and build custom furniture like no other.
We're always available for commercial projects.
We love working with architects and other designers to help create beautiful commercial spaces. Our custom conference tables, live edge walnut desks, collaborative tables and custom coffee tables have been popular choices in many commercial fit-ups in the last couple of years in both Ottawa and Toronto. Please contact us for pricing or more information on how we can help you, with your commercial office space furniture needs.
We've been super lucky to work for some amazing clients, such as OBI, HOK, Adobe, Survey Monkey, and the NAC.
CUSTOM FURNITURE, MADE IN OTTAWA, WITH LOCALLY SALVAGED AND RECLAIMED WOOD
AS FURNITURE DESIGNERS, WE TAKE THE TIME TO SELECT THE BEST LOCALLY RECLAIMED & SALVAGED WOOD, WHETHER IT'S LIVE EDGE SLABS, OR DIMENSIONAL LUMBER FROM THE OTTAWA AREA. WE PRIDE OURSELVES ON STRICTLY WORKING WITH DOMESTIC, LOCALLY-GROWN HARD AND SOFT WOODS FOUND IN AND AROUND OTTAWA, INCLUDING BLACK WALNUT, BLACK CHERRY, HARD MAPLE, EASTERN HEMLOCK, PINE, WHITE OAK, RED OAK, AND AMERICAN OR RED ELM. EACH SPECIES HAS IT'S OWN QUALITIES AND CHARACTERISTICS TO MAKE IT GREAT FOR USING IN THE DESIGN AND CONSTRUCTION OF CUSTOM FURNITURE. IN MOST CASES WE'RE ABLE TO TELL YOU WHERE THE TREE ONCE STOOD!
200 years ago, the Ottawa Valley was known around the world for its large tracts of land, covered with pristine forests. Through the dismantling of derelict old homes, outbuildings and barns, we've been able to stockpile some of this old growth lumber. Over the last 8 years we've also been very lucky to continue to grow our connections with many local Ottawa area arborists, who have in turned been able to save their tree removals from ending up at the local landfill. We continue to grow our stockpile of local logs, just waiting for their day to come, when we'll saw them into useable, sustainably sourced lumber.
LIVE EDGE SLABS, MILLED FROM OTTAWA TREES
Looking for something specific? Choose your own live edge slab from the stock we have available. We've always got a great selection of local Ottawa wood from Hard Maple, Black Cherry, Black Walnut, Red or White Oak, Butternut and both American and Red Elm, all sourced from local arborists from the Ottawa area. Each live edge slab is one of a kind, cut from a locally salvaged log and often milled onsite. Never do we purchase or mill logs that were not in need of felling. Why not choose na coille studio to build the custom dining table of your dreams? If there's something you see and think it would make for a killer piece of custom furniture, please contact us at info@nacoillestudio.com. To view our Catalogue, please click here.
CUSTOM SAWING IN OTTAWA - ALASKAN MILL
With our Alaskan Sawmill, there's not much we can't cut. We're setup to mill live edge slabs up to 56″ wide. We can mill onsite, or you if you prefer we can pick up your logs and we can mill them back at our wood lot. Lots of big old local trees end up at the landfill, or even worse, burned, we're able to mill those logs and give them the chance to be made into heirloom custom furniture. If you've got some logs and would like to have them milled into live edge slabs, please contact us at info@nacoillestudio.com
NA COILLE STUDIO
250 City Centre, Bay 222
c/o Ottawa City Woodshop
Ottawa, Canada
613-325-6451